Elite Series 3/4 HP Chain Drive Wi-Fi Garage Door Opener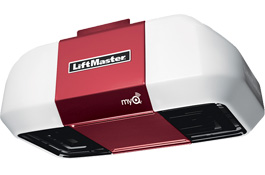 LiftMaster 8587W Elite Series 3/4 HP AC Chain Drive Wi-Fi Garage Door Opener
This ultra-powerful Elite Series Opener is built to provide maximum power to lift the heaviest of doors. It comes fully equipped with Security+ 2.0®, MyQ® Technology and the Timer-to-Close garage door feature.
Connectivity
MyQ Tech now with WiFi, enables secure monitoring and control of your door opener with a smartphone, tablet or computer. Alerts can be received as email or push type notifications on your mobile phone, ensuring the status of the garage door. MyQ mobile app is a free download and no annual activation fee.
Performance
P3 Motors provide reliability and durability. 3/4 HP AC Motor Chain Drive System is built to provide max power to lift the heaviest doors incl carriage house and solid wood garage doors. I-Beam Rail System and reinforced chassis with chain drive provides max support. Dependable warranty includes lifetime coverage of motor and five years on parts.
Security
Security+ 2.0 safeguards garage access – with every click a new code is sent to the opener ensuring the garage door does not inadvertently open. PosiLock locks down the door by electronically monitoring against a forced opening. Timer to Close automatically closes the garage door after a pre-programmed number of minutes. Alert-2-Close Warning System provides audible and visual warnings when a garage door is about to close when using MyQ Technology or Timer-to-Close. Motion Detector is integrated into the Smart Control Panel providing rapid detection and illumination of garage. The Protector System incorporates safety sensors which emit an invisible light beam across the door opening, automatically reversing the door if an object interrupts the beam.