Intermediate collection

Tough. Dependable. Long-Lasting. Few doors in your home get more use than your garage door—it truly is the biggest door in your house.
More than any other door, it needs to work dependably and stand up to the elements for years on end. Built to meet these challenges—and look good doing it—C.H.I. garage doors give you a wide range of options that fit your home's individuality and help you maintain your investment in it.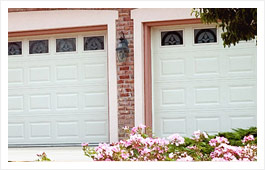 Premium Collection
Technical Data
Section joints are roll-formed into a tongue-and-groove design which produces a superior weather seal
Long-lasting rollers assure consistent, efficient operation
Bottom weather seal utilizes an aluminum retainer and extruded virgin vinyl
Concealed steel plates run continuously from top to bottom of each section for fastening hardware
Extension or torsion springs are individually computer-calibrated to lift your door
Extra-heavy paint system consists of .25 mil. primer with rust inhibitor and a .75 mil. coating of baked-on polyester paint in your choice of white, almond or sandstone
Hinges are stamped from galvanized steel in a "wide body" pattern for greater stability and longer life
Optional automatic latching lock system opens easily from inside or outside
Double sided steel doors are 2" thick
Raised panel R-value - 8.07
Flush panel R-value - 8.72
Door Insulation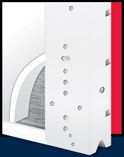 Polystyrene insulation is secured in place with a urethane adhesive to increase structural integrity. The front and back skins are locked together in a tongue and groove design for years of worry free protection.
2283 R-value - 8.07
2284 R-value - 8.72
2283/84
An attractive, select model engineered for durability and energy efficiency. The 2283/2284 is available in 3 pre-painted, easy to care for colors, with an insulated core that protects through the harshest conditions. The beauty of this door is continued on the inside with polyester coated steel protection. Designed to complement a wide variety of home styles, this model will provide many years of dependable service.
Short Panel (2283)
8′ wide
9′ wide
10′ wide
11′ wide
12′ wide
13′ wide
14′ wide
15′ wide
16′ wide
17′ wide
18′ wide
AVAILABLE COLORS
Refer to samples at your local C.H.I. Distributor for exact color match.



WINDOW INSERTS
2250/51/55 – Raised Short Panel










DESIGNER LITES